Take 100 young Americans starting out at age 25. By age 65, one will be rich and four will be financially independent. The remaining 95 will reach the traditional retirement age unable to self-sustain the lifestyle to which they have become accustomed. - The Bogleheads' Guide to Investing
This is intended as a bare-bones intro to saving for retirement, targeted at software engineers. When I got my very first paycheck after college, I was fortunate enough to have a friend pull me aside and give me the benefit of their experience regarding saving. I didn't know what a 401k was! If this describes you too, then listen up!
The average salary for a software engineer in the Bay Area ranges from $73k at entry level to $124k for a senior software engineer. Ballpark, you make about $100k a year in your 20s. If you want to have that same income in retirement, you need about four million dollars saved up. Anything less, and your income will be lower than it was in your 20s (adjusted for inflation).
That's a BIG number. If you are a dual income family, you may very well need twice that amount. The good news is that you can do it!
Compound Interest
If you save approximately 25% of your gross income (pre-tax), then you can easily get there. But if you work until you're 65, that will be "only" $25k * 45 years, or $1.125m. Where does the other $3m come from? Stop me if you've heard this before. The secret is the power of compound interest.
Compound interest arises when interest is added to the principal of a deposit or loan, so that, from that moment on, the interest that has been added also earns interest. -Wikipedia
The stock market has historically returned about 9.5% annually over the last 100 years. Some years it's negative, but other years are way up. A more conservative estimate that you often hear is 7%.
Over time, that 7% interest will overtake your actual cash deposits into your savings. Your savings will be growing more and more due to interest than anything else.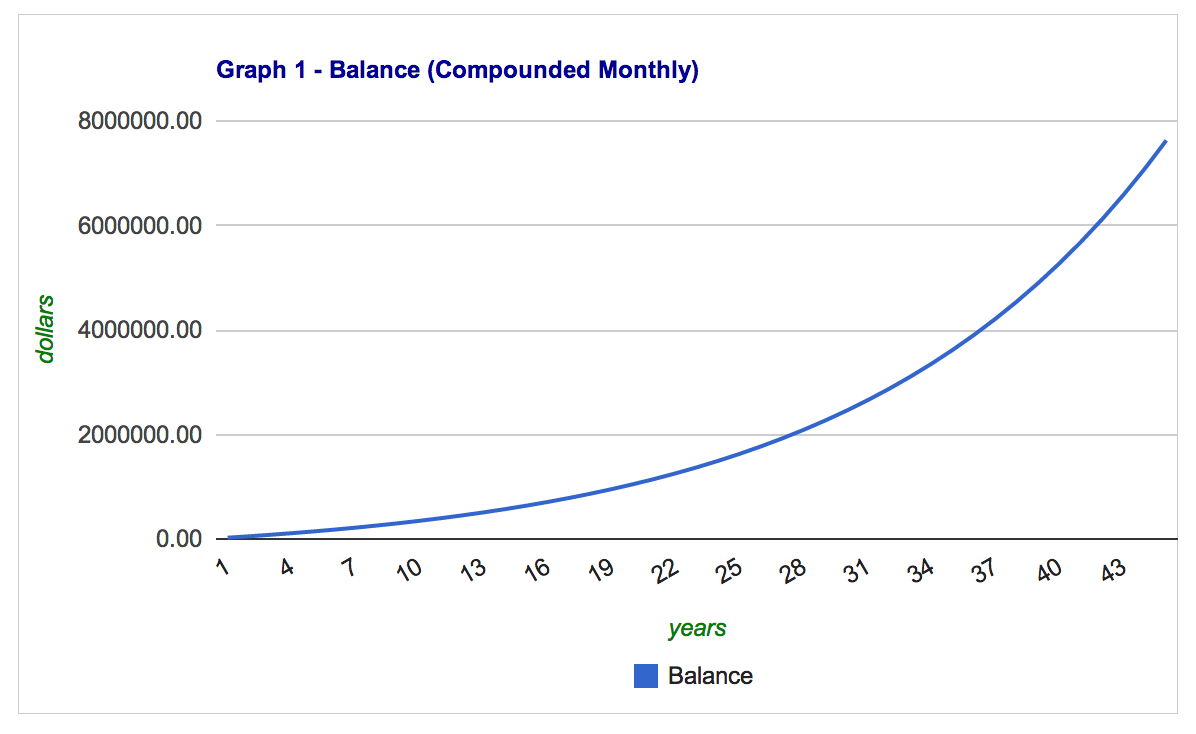 If you save $25k a year for 45 years at 7% interest, you will end up with $7.6m. Start just 10 years later at age 30, and you will have $3.6m. Feel free to play around with a compound interest calculator yourself.
401ks
A 401k is a service offered by many employers where a set dollar amount is deducted from your paycheck before taxes and sent to a financial institution, where it is automatically invested into funds of your choice. An individual can contribute up to $17.5k a year to a 401k. Many larger companies also offer a dollar match, which can put you above the $17.5k limit.
If you work at a company the offers a match, that's free money! It's definitely something to think about the next time you get a job offer.
The money you contribute will grow, tax free, until you turn 59.5. At that point, you can start withdrawing the money, and you will pay taxes on it at that time. You can also make early withdrawals for specific things like buying a house and going back to school. When you leave your current company, you can roll your 401k over to your new employer, or into a third-party financial institution.
The main advantages of a pre-tax savings are:
It reduces your taxable income for that year.
You can afford to save more, so your savings will reach a higher peak value.
When you do pay taxes on the money in retirement, your tax rate will likely be lower.
You can choose to retire in a state with lower taxes.
For me, the primary advantage is that it's automatic. It happens before you even see the money.